.
Our Kitchen Hours:
Monday-Sunday 11:00 AM – 10:00 PM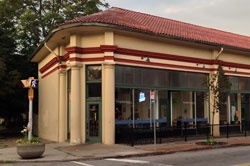 (716) 883-1880
62 Allen Street, Buffalo, NY
Cafe 59  A Full Service Restaurant and Bar at 62 Allen St
Cafe 59 serves up some of Buffalo's best drinks and eats in a full service restaurant, transitioning from an upbeat lunch spot to an eclectic dinner venue. The real gold can be found in the many house made ingredients, including the Soups, Red Sauce, Focaccia Bread and Salad Dressings, as well as house Roasted Vegetables and Meats. Aside from boasting the best Chicken Finger Sub in town, Café 59's offerings range from lunch sandwiches such as the Reuben to dinner entrees like the Teriyaki Stir Fry guaranteed to please any who range from vegan to obligate carnivore.
Cafe 59 was featured as the best Chicken Finger sub available in the city by the Buffalo News in this article.
      We can do our best to accommodate vegetarian, vegan and gluten free requests, though we do  not use a separate fryer or grill to cook our vegan or gluten free options. The Black Bean Burger contains Egg Whites, Dairy, Soy and Wheat ingredients. Please inform your server or bartender if you have Celiac's disease, any food allergies, or any dietary restrictions.
Check out the extensive beer list and creative cocktail menu to take advantage of the full service bar, or enjoy a glass of vino to further your experience. If you're looking for a fun, relaxed atmosphere with friendly service, than Cafe 59 is the place to be.
We offer daily lunch and dinner specials including soups of the day. Offering a chance for the chefs to get creative, feature seasonal items or a chance to try something new.
Featuring breakfast specials and our full menu Sundays.
LIKE US ON: