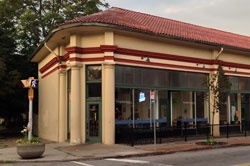 62 Allen Street, Buffalo, NY
716-883-1880


Appetizers and Bar Food
Polenta "Wings"                      7.95
Sweet & Sour Beets                   4.95
Fried Artichoke Hearts             7.95
Calamari                                  10.95
Smoked Mozzarella Bites        9.95
Daily Soup                               4.25
Cheese Stuffed Peppers          7.95
House Meatballs                      2.00 each
Tabbouleh                               4.95
Hummus                                  7.95
Ratatouille Tart                       10.95
Classic Reuben                       9.95
Café Burger                            9.95
Chicken Finger Sub                 9.95                                             Fried Pickles with Cajun Ranch   7.95
Wine
Wine by the glass $7.00   By the Bottle $24.00
White
Pinot Grigio Bright citrus acidity, with fresh herbal notes. Perfect with seafood.
Chardonnay Green apple with buttery oak. A crowd pleaser.
Sauvignon Blanc Floral and fragrant, with grapefruit, passion fruit and pineapple. A New Zealand flagship style.
Riesling A fruit salad of perfectly fresh grapes and honeydew melon. Luscious.
Red
Pinot Noir Light, with the aroma of strawberries and a clean finish. Perfect with food, or on its own.
Malbec Ripe fruit, with balanced tannins and integrated smoke. Cocoa and coffee notes linger on the palate.
Merlot Low tannins, with black cherry and berry aromas. Well suited to lighter foods.
Cabernet Firm tannins and ripe raspberries. Consistent on the palate, with nuances of bell pepper and tobacco.
Beers
Draft:

Two Roads Ol' Factory Pils – Pint – $6.00
Boulder  Shake – Pint – $6.00
Lord Hobo Boom Sauce- 12 oz – $6.00
Ommegang Witte – Pint – $6.00
Bell's Amber – Pint – $6.00
Hermit Thrush Po Tweet – Pint – $6.00
Bottles & Cans:
Beers
Evil Twin Biscotti Break: Imperial Stout, 11.5% ABV – $9.50
Westbrook Lemon Cucumber Gose:Lemon/Cucumber Gose, 4.0% ABV – $7.50
Hamburg Small Town:Belgian Saison, 5.2% ABV- $5.00
Stillwater Big Bunny: Imperial Milk Stout, 8.0%ABV$7.50
De Brabandere Bavik Super Pils: Belgian Pilsner, 5.2% ABV – $6.00
Cigar City Guayabera: Citra Pale Ale, 5.5% ABV – $6.00
Crabbie's Ginger Beer: Ginger Beer, 4.8% ABV – $6.50
Two Roads Espressway: Coffee Stout, 6.0% ABV – $6.00
Great Lakes Edmund Fitzgerald: American Porter, 6.0% ABV- $6.00
Two Roads Lil Heaven: Sesssion IPA, 4.8% ABV – $6.00
Six Point Crisp: German Pilsner, 5.4% ABV – $6.00
Van Steenberge Piraat: Belgian Strong Pale Ale,10.5%ABV-$12.00
Two Roads No Limits: Hefeweizen, 5.0%ABV – $5.50
Jacks Abby Copper Legend: German Marzen/Oktoberfest, 5.7ABV$5.50        
Founders All Day IPA: American Session IPA, 4.7% ABV – $6.00
Lord Hobo Hobo Life: Session IPA, 4.5% ABV – $6.00
Butternuts Porkslap: American Pale Ale, 4.3% ABV – $4.00
Brewdog Elvis Juice: Grapefruit IPA, 6.5% ABV-$5.50
Lagunitas 12th of Never: American Pale Ale, 5.5%ABV – $5.50
Stone Delicious: Citrus IPA, 7.7% ABV-$6.00
Graft Farm Flor: Tart Farmhouse Cider, 6.9% ABV – $7.50
Blackbird Cider: Semi-Sweet Cider 6.5% ABV $6.00
Lagunitas Aunt Sally: Hopped Sweet Sour Mash, 5.2% ABV- $6.00
Bell's Best Brown: American Brown Ale 5.8% ABV – $6.00
Mikkeller Raspberry Blush: Berliner-Weissbier, 4.0% ABV – $10.00
Bell's Two Hearted Ale: India Pale Ale, 7.0% ABV – $6.00
Nine Pin Hunny Pear: Pear & Honey Cider, 4.7% ABV – $9.00
Left Hand Death Before Disco: American Porter, 6.0% ABV – $6.00
Left Hand Nitro Stout: Nitro Milk Stout, 6.0% ABV -$6.00
Van Honsebrouck Kasteel Rouge: Cherry Belgian Quad, 8.0% ABV –$14.00
Evil Twin/Omnipollo Rainbownade:Rainbow IPA, 7.0% ABV –$12.00
Big Ditch Hayburner American IPA, 7.0% ABV— $6.00
Stillwater Insetto: Dry-Hopped Plum Sour, 5.0% ABV—$7.50
**Also Serving Blue Light, Molson, Genny Cream Ale, Narragansett, Miller High Life and Bud Light
Café 59 Signature Cocktails
– Kick in the Pants
Vodka Shaken with Muddled Lime, Topped with Crabbie's Alcoholic Ginger Beer
– Jiminy Cricket
Cucumber Vodka, Elderflower Liqueur, Lime Juice, Simple Syrup
– Cat's Pajamas
Gin, Elderflower Liqueur, Campari, Grapefruit Juice, with Lavender Infused Simple Syrup
– The Pinky Swear
Bourbon, Elderflower Liqueur, Lemon Juice, Muddled Brandied Cherries topped with   Champagne
– Chip off the Old Block
Bourbon Whiskey, Amaretto, Orange Liqueur, Bitters, Dash of Water, Simple Syrup,
with Muddled Orange, Cherry, and Lemon
– Expat in Paris
Rye Whiskey, Sweet Vermouth, Lavender Syrup, Bitters, Absinthe
– Wake Me Up, Before You Coco(nut)
Lockhouse Coffee Liqueur, Coconut Rum, Vanilla Syrup, Amaro Montenegro
– The Cherry Busey
Muddled Cherries, Gin, Maraschino Liqueur, Simple Syrup, Lemon Juice
– The Beverly Hills Gin-ja
Gin, Lime, Framboise Liqueur & Rhubarb Bitters topped with Ginger Beer
– Chamomilli Vanilli
Chamomile Infused Whiskey, Amaro Montenegro, Vanilla Syrup, Chai Bitters
– Along Came A Cider
Vodka, Apple Cider, Caramel Syrup, topped with Ginger Beer, Cinnamon Stick Garnish
– Tart Shaped Box
Gin, Cinnamon-Grapefruit Syrup, Lime Juice, Simple Syrup, Tiki Bitters topped with Malbec
-People VS Larry Mint                                                   Grapefruit Tequila, Coconut Rum, Mint, Lime, Simple Syrup, Topped with Soda
-Cran I Get A What-What                                             Tequila, Orange Liqueur, Cranberry Puree
-It's A Sap!                                                                            Bacon Infused Bourbon, Maple Syrup, Bitters